What people Say
Discover Why
Annie K. Rowland is one of the leading photographers in Santa Cruz County.
Annie is a consummate artist! She is knowledgeable and easy to work with. She knows what looks good on you, relates to you as an individual, what inspires you as a person, and somehow fuses all of that in every photo she takes. She captures that moment and turns it into something spectacular. I called Annie in 2012 to take my oldest daughter's senior portraits. I liked her immediately but most importantly so did my daughter. Her pictures turned out fabulous and she loved them. One down and one to go…… Annie did such a wonderful job the first time; I had her take my youngest daughter's senior portraits. Fast forward to 2013 and I have to say I couldn't be happier….my youngest daughter absolutely loves her pictures….they too turned out amazing. Annie does a phenomenal job with lighting, color, and location. Not everyone has this level of talent….but Annie does. I wouldn't use anyone else!
EA Joplin
I needed portrait photos (head shots) for LinkedIn, technical paper biographies and for marketing my consulting business.  I searched for a photographer who had a good reputation and good quality examples on their website.  Annie K Rowland Photography checked all the boxes.

I met with Annie and explained I was looking to project two types of images; conservative/serious, and more causal.  She listened, took time to pose me and then took dozens of photos.  We reviewed them, she took in my feedback and we shot more (with a wardrobe change too).

Next we sat together while she post-processed and she made the photo look flawless – subdued my wrinkles and blemishes, corrected my angled tooth (I never smiled in photos because of it!), and added a vignette. But the head shots did not look "Photoshopped."  She had just the right touch and nailed it!

Annie – thanks for taking the time to make me (and my business) look great – Paul

Paul F.
She's Amazing…love her…I'm so happy how Joey's pictures came out on the beach…was a perfect morning with our family…enjoyed watching her do her magic….we recommend her to anyone who wants any kind of Photography done…she is kind, poses you perfectly and you can see she loves what she does. Thank U Annie

Rebecca Chargin

Absolutely recommend. Beautiful professional photos! Your choice of locations and clothing changes

Nanette Grimes

Annie is fabulous. She has an amazing eye that captures the very best of you. She is such a wonderful person, kind, and joyful and very professional. I felt so comfortable and happy, and had a lot of fun working with her. I would recommend her.
Mayra A.
Annie is a top notch photographer and a local gem! I'm thrilled with the results of my photo shoot (this comes from someone who would rather be taking the photo than sitting for one) 🙂

Annie has a true gift of drawing out and capturing the "light" inside of you–your personal story and essence, so that your image is more than pixels. She is worth the investment of time and money. In fact, I just booked another session with her for a location B&W photo shoot.

It's rare these days to find local artists who have been in business as long as Annie (14 years and counting!) and I hope that she remains in business for (at least) another fourteen years.

DA M, 5/25/2018
Annie is a cool and wonderful photographer. We have been using her since 2009. We started with our engagement pictures by the beach in Santa Cruz. Then 2010 our wedding, later maternity, baby and toddler  pictures for both our boys. She is always prepared and does everything you ask her to do, you just need to say what you want and she will do it.

Eric, her husband is her right hand and together they make the best pictures you dreamed of.

OKAY, so yes she has her price, but if you know what you want from the beginning it should not be a problem.

A.K. Rowland Photography is the best we have found for our family, and we are going to keep working with them for a long time.
We recommend them to anyone who will love to have professional and amazing pictures taken..

Ramy G

About 9 years ago we met Annie when she took our engagement pictures. This was our first experience with a professional photographer and we had no idea what to expect. The pictures were absolutely amazing! She has since then photographed our wedding, maternity, and all three of our babies when they were just days old. I have to say that Annie now feels like part of our family. We bring our newborn albums out to show off, reminisce, brag, etc! They are the most stunning photos I have ever seen. On a personal level, Annie is a joy to work with. She makes you feel so comfortable and at ease. I would recommend Annie to literally anyone looking for their most special moments to be captured forever. We have moved almost 2 hours away from her and continue to make the trek to see her-that's how amazing she is. Annie: Andrew and I love you!!

Kathryn C


I own a local business, and using a 'selfie' as my profile pic on social media and our website was not cutting it. So I looked to the web, and found Annie Rowland's website. I knew pretty quickly that I liked her eye for lighting and composition, and her subjects looked friendly and approachable instead of stiff and posed, so I wrote her a note seeking an appointment. Annie was just as I had imagined; fun and informal and very easy to work with. I felt at ease with her direction, and even discovered I can wear black and pull it off (special thanks to Annie's husband for the loaner shirt). And the results exceeded my expectations. I picked out four shots out of several, and after Annie did some minor cropping, I have all the headshots I need to keep a fresh profile on SM and the web. Thanks Annie, you're awesome!
Tony A, DAY ONE SOLAR
We have had a few sessions on the beach (different locations, my 3 year old and my maternity)  each time she was VERY clear as to what she wanted us to do…How to pose…our head and body. We have had Annie take our Portraits since 2008  In and Out of her Studio. She has documented our family's growth. She is worth the drive for us, as we live in San Jose. She has become Family to us and our home displays her Beautiful Talent. We always tear up seeing our portraits for the first time, she just captures the most precious moments of our family. I love showing our albums to friends and the staff at my son's school. They just LOVE her work. A friend of mine told her granddaughter about Annie and she had her newborn portraits done.  As far as the price for Annie's service, you cannot compare her to portrait studios. You will never get the quality and true professionalism from those places. Yes, you might get some good pictures, but that is exactly what they are, pictures, not portraits. There is a difference. You get what you pay for. I choose to pay for quality that my family will be able to enjoy for generations.
I dread the day that we are old and she retires. Glad that it is MANY MANY MANY years down the road.

Katheryn B,

Not only is Annie extremely professional and talented, shooting with her is extremely enjoyable. I had such a fantastic time with her, and the photos she produced were outstanding! The images were creative, unique, and overall breathtaking. I highly recommend her for anyone looking for professional, quality photos

Natalie H.

Annie is a really talented photographer.  Very approachable, suggests great ideas and listens to your own ideas.  We've had pictures of our baby taken by her twice, as a newborn and a holiday shot.  In both situations, the pictures have been some of the best we've ever seen.  When we sent her pictures out to friends across the country in our birth announcement and holiday card, everyone called to tell us they were the best baby pictures they had ever seen.  She isn't cheap and won't let you take the digital files without spending a lot of money, but she is worth it.  If you are looking for something like you've never seen before, go to Annie for your pictures.

C.H


Annie K. Rowland is a talented and experienced photographer with professional equipment and a beautiful private studio. She's timely, clear and has a wide range of lighting, backdrops and natural light. She has tons of experience and is great to work with. Here's a recent professional portrait she made for me!
Martha Mendoza, Associated Press
Working with Annie is such a pleasure. She is the perfect combination of pleasant and professional. She really cares about the quality of the images captured. Simply walking into her studio you can tell she is a true artist.

Danielle Silveira,

I needed a head shot and I was referred to Annie by some of my coworkers. She has a great little studio with natural light. She was very professional and made the whole experience painless and easy. She had me bring several shirts and a blazer and we tried multiple angles and backgrounds until we got the right look. She made me feel comfortable and relaxed and we got a great shot.
Thanks again Annie

Kathleen Bentley

Words can't describe what an amazing experience it's been to have Annie as our wedding photographer. She is a brilliant artist – I couldn't have dreamed our engagement and wedding photos would be so beautiful. She's also very professional and a joy to work with. I was delighted to have her be part of our special day. Annie puts her heart and soul into every picture she takes – I really think she'd scale a mountain or stand in a puddle of quicksand if it meant getting the perfect angle/lighting/etc. for her shot. She will also teach you exactly the right way to stand/pose/position your feet/hands/chin/etc. so that you look your best.. she can make you look and feel like a model even if you've never felt photogenic your entire life. Choosing Annie was one of the best decisions we made for our wedding; we feel so lucky that we got to know her. You couldn't find a more wonderful person to follow your every move with a camera. 🙂

Christie

To be honest, I had mixed emotions heading into my photography session…. why am I doing this, maybe we should do family photos instead.. but I couldn't have been more wrong.  From the minute I walked in, Annie made this experience so fun and worthwhile.  I felt like a teenager again getting my hair and make-up done and trying on different outfits. Not only was the photo shoot a blast, I couldn't be more pleased with the beautiful photographs.  Annie is a truly gifted photographer. I highly recommend giving yourself this gift of documenting ourselves as the amazing woman we are. 
Thanks, Susan 
From start to finish, my photo shoot experience with Annie was so much fun! I am not someone who likes to have my picture taken, so I was a little nervous, to say the least. Annie quickly made me feel comfortable and at ease and her studio space is bright and cheerful, yet very comfortable. She definitely knows what she's doing when it comes to getting you into the right poses to make you look your best! When it was time to view my photos, Annie invited me back to her studio where I was able to see them on a large TV screen…it was so cool!! There were so many great photos for me to choose from. Annie guided me through the process of narrowing down my choices. My mother recently moved back to NY and is so happy to have a professional photo of her daughter to put in her new house! What a special experience!

Jen H

I have a beautiful picture of my mother that sits on my mantel and my kids always comment on how beautiful and youthful grandma looks. I cherish that photo, so when I heard Annie was taking pictures of mature women I thought, why not? I had never had my portrait taken so I was a bit hesitant, but wow-  Annie has the skill, expertise, and ability  to make you feel beautiful and confident.  It was an amazing experience, that was not only fun, but transformative! The photos where incredible. I highly recommend you treat yourself.

Jan M

Annie is an amazing photographer. Annie recently did some contemporary portraits of me, and I had the opportunity to wear different outfits and have my hair and makeup done prior to the session. I usually don't wear as much makeup as what the makeup artist used, but it really made a difference in the final images. This was included as part of my session which I appreciated. I did not have to go somewhere beforehand, just went to the studio and hair and makeup are done there on site right before the session. Annie is great at posing and used flattering angles to enhance my figure. She really pays attention to the details; where a hand is, what posture looks best, the way to turn my head….etc. She provided tons of guidance with the posing and I was super comfortable taking the directions. She excels at using light to flatter her subjects. I love the finished images!  Her new studio was cozy, warm and inviting. It was super easy to bring in all my outfits from the car. The session was fun and relaxing. I would definitely recommend her to anyone looking for beautiful, natural light portraits.

Michelle T

This amazing photograph was taken last week at our daughter's wedding. One of the best parts of this special day was having Annie and Eric record the beauty of the earth, our loved ones, and the spirit of love and joy that was present. A combination of skillful expertise, a creative eye, and a passion for her work makes Annie the best photographer I have yet to meet. (And I know many.) A true artist, Annie's photos reflected her abilities and captured everything we had hoped for and more. I cannot recommend Annie K. Rowland highly enough. If you choose her for your portraits, you won't be sorry. She is superb at what she does.
Thank you Annie and Eric. You have blessed us. They are all amazing. Thank you so much for the album. I am loving it and get to show my friends the beauty of the day. Hugs and blessings.
Trisha B 2022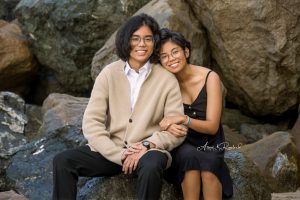 Annie! I can't thank you enough for the the wonderful work. I'm still in awe and wiping tears of joy. LOVE, Love LOVE the photos!

Vida V. mom of high school senior twins, 2022
#anniek.rowland.photography
Copyright 2023 Annie K.Rowland Photography tel: 831-466-0663 NEW STUDIO LOCATION 407 Frederick street. Santa Cruz CA